Corn and red cabbage salad with smoked fish
Smoked fish adds protein to this tasty salad meal. Or try cooked chicken.
Ingredients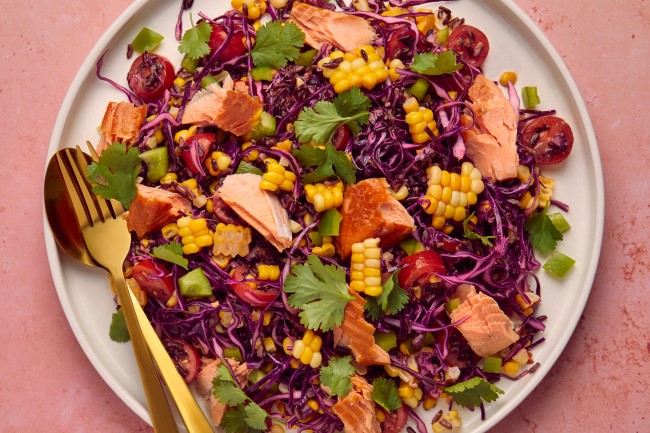 Serves 4
2 cups black rice, cooked and chilled
1-2 cups fresh or frozen New Zealand sweet corn kernels, cooked
2 cups sliced red cabbage
1 green capsicum, deseeded and sliced
6-8 yellow or red cherry tomatoes
1 cup flaked smoked fish, or sliced or shredded cooked chicken
2 Tbsp chopped parsley or coriander
2 Tbsp lemon vinaigrette.
Method
Place rice, corn, cabbage, and capsicum in a bowl and mix.
Place on serving dish and add fish and tomatoes.
Drizzle with vinaigrette. Sprinkle with parsley.
Store covered in the refrigerator until ready to serve.