Roast vegetable salad with orange and rosemary dressing
The sauce compliments these roasted vegetables perfectly.
Ingredients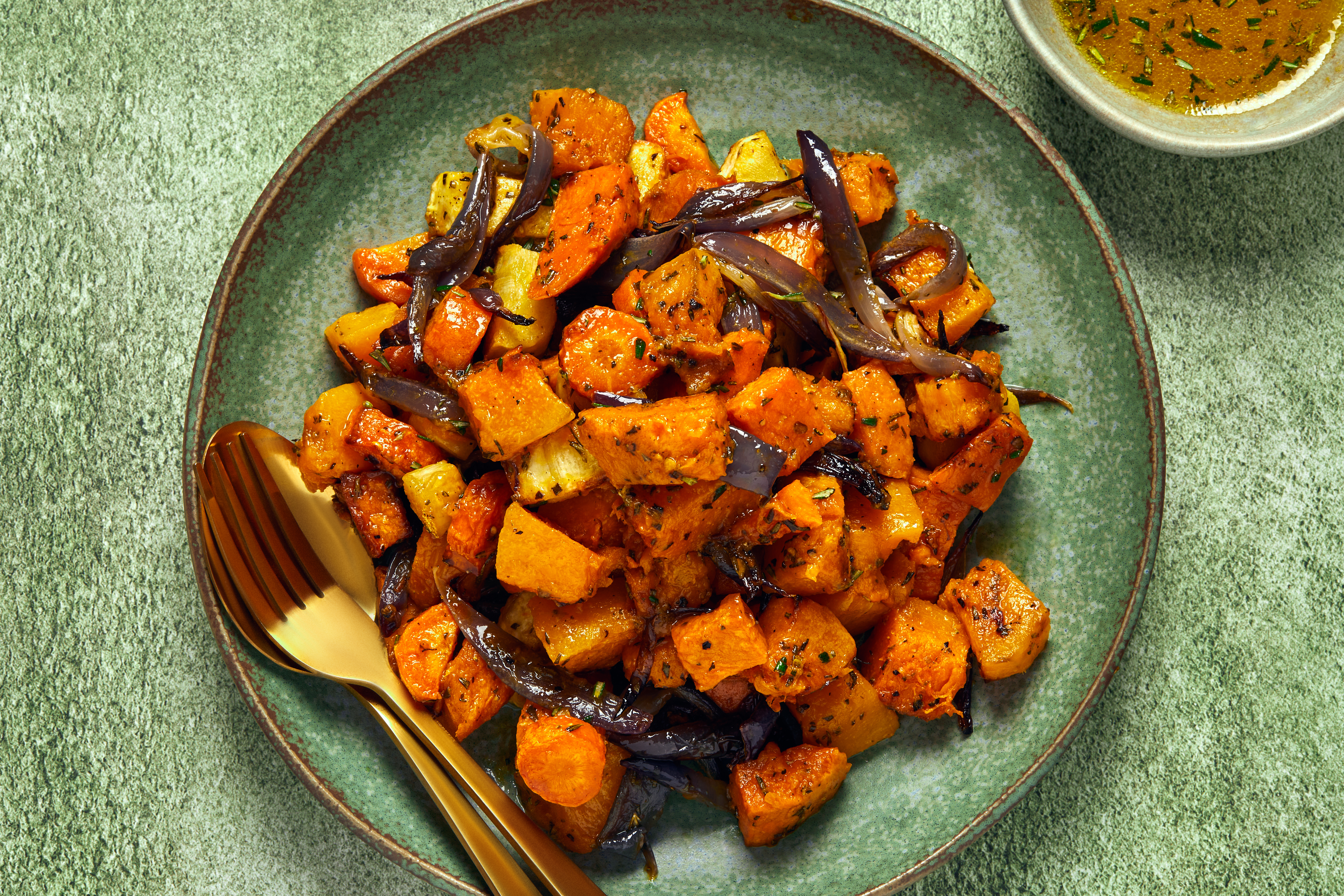 Serves 4
300g pumpkin
1 medium-sized kumara
1 carrot
1 parsnip
1 red onion
2 Tbsp olive oil
2 tsp chopped fresh rosemary
2 cloves garlic – wrapped in a little foil
Dressing
2 Tbsp olive oil
¼ cup fresh orange juice
1 tsp runny honey
1 tsp chopped fresh rosemary

Tip: use any mix of root vegetables including celeriac, turnip, parsnip, swede, yam, carrot, kumara, squash, pumpkin and potato.
Method
Preheat oven to 190°C (fan assisted). Peel and cut pumpkin, kumara, carrots and parsnip into 2cm chunks. You should have approximately 750g of prepared vegetables. Cut the red onion into small wedges. Place all the vegetables into a mixing bowl.

Whisk together oil and rosemary and toss through the vegetables. Season with a little salt and pepper. Transfer vegetables, placing them in a single layer on a low sided baking tray lined with baking paper. Place the foil wrapped garlic on the baking tray. Roast for 35-40 minutes, or until vegetables are tender. Allow to cool for 10 minutes

While the vegetables are cooling prepare the dressing. Put olive oil, orange juice, honey and rosemary into a small bowl. Squeeze in the roasted garlic flesh. Whisk ingredients together.

While still warm transfer the roasted vegetables to a bowl. Pour over dressing and gently mix to coat the vegetables. Allow vegetables to cool to room temperature before serving to allow the dressing flavours to be absorbed into the vegetables
NOTES:
Make sure you use a baking dish that is large and shallow enough to roast the vegetables in a single layer. This ensures even roasting and crisping. If the vegetables are piled into the dish they will tend to 'steam' and may become soggy.
Roasting the garlic, softens the flavour and draws out the sweetness and being softer in texture will make it easier to whisk into the dressing
Select your favourite vegetables for roasting ensuring that they are cut into similar sized pieces and ensuring that they are going to cook for the same length of time.
For a summer roasted vegetable salad – use courgettes, eggplant, capsicum, red onion. Omit the rosemary. Replace the orange juice in the dressing with balsamic vinegar and whisk in a tablespoon of basil pesto.
Rosemary, like Thyme is considered a 'woody' herb. The leaves are tougher and generally stripped from the stalk. They have a strong flavour which can stand longer cooking . Often they are used in slow cooked recipes such as casseroles or the leaves are pushed into a leg of lamb, often with garlic before roasting. Rosemary is delicious used in roasted potatoes or other root vegetables. Chopping the leaves ensures that they don't burn during cooking. If whole rosemary or thyme stalks are used they should be removed before serving. Adding a little finely chopped rosemary into a dressing can give an extra flavour burst.