Vegetable fried rice
A classic and tasty dish that the whole family will love
Ingredients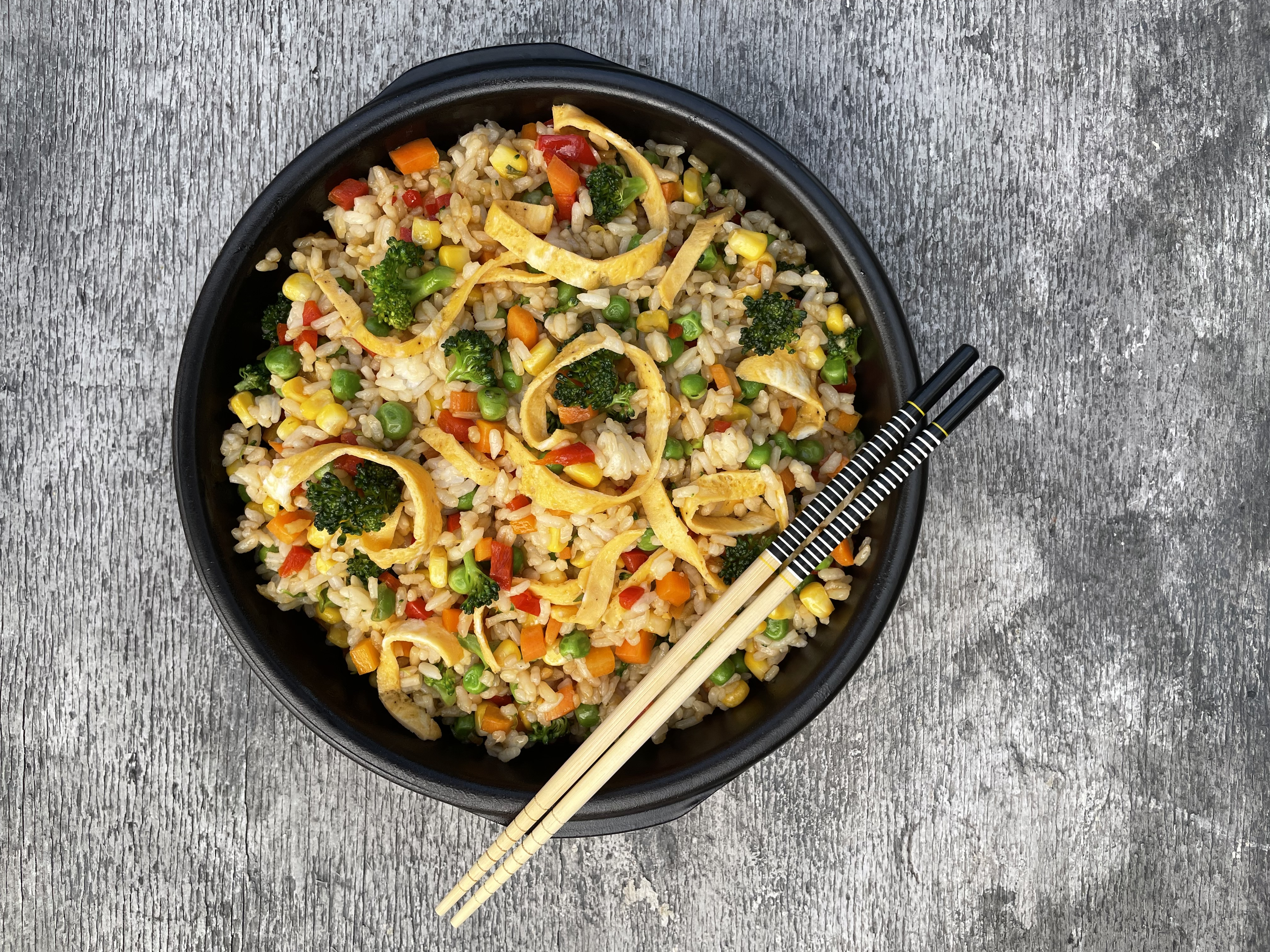 Serves 4
2-3 Tbsp vegetable oil
2 eggs, lightly beaten
3 cloves garlic, minced
1 small onion, finely chopped
1 cup mixed vegetables (eg. carrots, capsicum, broccoli, green beans) diced evenly
½ cup each of green peas and corn (optional)
2 cups cooked, cooled rice
2-3 Tbsp soy sauce (adjust to taste)
1 Tbsp oyster sauce (optional)
1 tsp sesame oil
Spring onion sliced on the diagonal for garnish
Method
Heat a large frypan or wok over medium-high heat. Add about 1 tablespoon of vegetable oil and swirl it around to coat the surface.
Add enough beaten egg to the frypan to just cover the pan. Cook for a minute until set, flip and cook another minute. Slide onto a plate to rest. Repeat with the remaining egg until finished.
Once the omelettes are cool, roll them up and slice them into long lengths. Set aside.
In the same wok, add a bit more oil if needed and sauté the minced garlic and chopped onion until they become fragrant and translucent.
Increase your heat to high.
Add the diced mixed vegetables to the pan and stir-fry for a few minutes until they are slightly tender but still crisp. (this will take 2-3 mins depending on the size of the diced vegetables)
Add the peas and corn if using, and cook for a further minute.
Add the chilled cooked rice. Break up any clumps with a spatula and stir-fry the rice for a few minutes to heat it through and let it get slightly crispy.
Pour soy sauce and oyster sauce (if using) over the rice and mix everything together until the sauces are evenly distributed. You can adjust the amount of soy sauce to suit your taste preferences.
Now, add the omelette strips back into the pan with the rice and vegetables.
Drizzle sesame oil over the fried rice and stir it in for a rich flavour.
Garnish the vegetable fried rice with sliced spring onions for added freshness and colour.
Tips:
To spice your fried rice, add chilli oil to the final drizzle.
Use completely cooled rice or the fried rice will be sticky or mushy.
If you wish to add tofu, cook it first in a little oil and set aside. Add with the egg (or in place of it).