Safe Food
Are your vegetables GAP certified?
New Zealand GAP ensures safe and responsible production
of fruit and vegetables in New Zealand

New Zealand GAP is a trustworthy and widely accepted wholesaler/retailer brand for certified produce in both domestic and export markets.


What does New Zealand GAP mean?
NZ GAP stands for New Zealand Good Agricultural Practices. People are increasingly concerned about the origin and safety of their food. They also expect responsible and sustainable farming practices. New Zealand GAP certifies producers that can demonstrate their commitment and ability to meet these expectations. Certified producers are audited by independent certification bodies.
GAP (Good Agricultural Practice) describes responsible farming practices inside the farm gate. It is the starting point in the supply chain for certified safe and sustainable fresh produce.


New Zealand GAP covers:
Food safety – helping to eliminate harmful pathogens, physical contamination and pesticide residues in produce.
Environment – promoting sustainable farming practises.
Social Practice – protecting the safety and welfare of workers.
Traceability – tracking produce back to the farm easily and accurately.


Buying New Zealand GAP certified produce:
GAP certified produce is freely available in New Zealand and costs no more than certified produce.
Customers can have confidence that they are buying from the best producers.
Retailers can be sure they are meeting their customers' expectations.
New Zealand GAP is a voluntary system, open to all New Zealand growers.
The low cost of certification enables even the smallest producers to participate.
New Zealand GAP has been successfully benchmarked against international quality assurance programmes, and approved by the New Zealand Food Safety Authority.


Vegetables.co.nz supports Safe food and has produced this poster for teachers and chefs. We suggest this poster is displayed in kitchens to remind students and chefs to follow the rules of Safe food.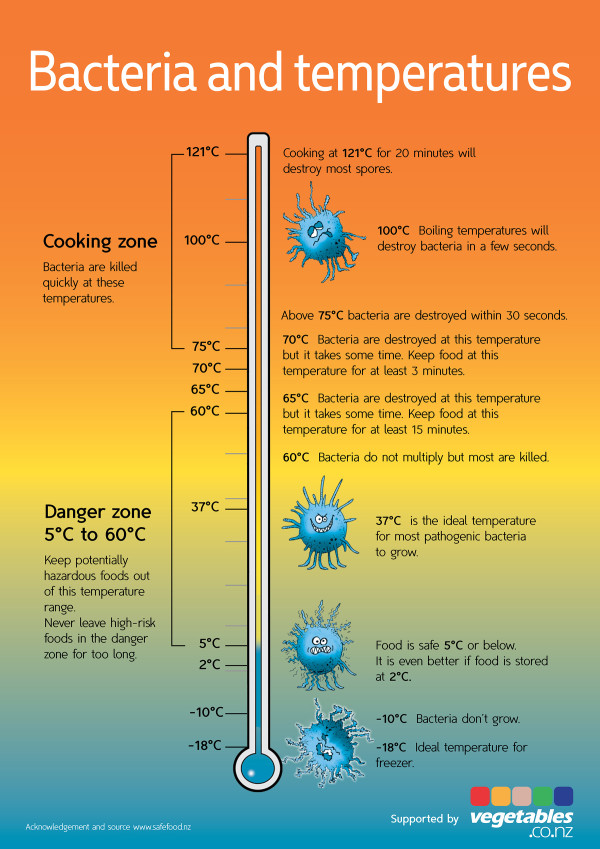 For Safe food at home, follow the 3 Cs : clean, cook, chill
Every year about 200,000 New Zealanders get food poisoning. About half of these cases occur in homes. The most common is campylobacter food poisoning. Prevent food poisoning by following the three Cs – clean, cook and chill.
Clean – before preparing food and after handling raw meat:
- Wash hands, cutting boards, dishes and utensils [like knives] in hot soapy water.
- Dry them properly, preferably air dry.
Cook:
- Cook food thoroughly, especially chicken and mince, all the way through until the juices run clear.
- Reheat food until steaming hot.
Chill – to stop bacteria contaminating or growing in food:
- Cover and place in the fridge.
- Keep cooked and raw food separately.
- Don't leave food out in warm temperatures. Refrigerate within 2 hours.
Further info at: